Ex Repair Facility Audit
According to Section 177(8) of Decree No. 54/2014 (XII.5.) of the National Fire Protection Regulations:
"Only devices, tools, equipment, power and machinery that have been manufactured, inspected, maintained, and repaired in accordance with the regulations of explosion protection can be placed and used in hazardous areas." Generally, these repairs and restorations can be carried out by workshops specializing in explosion-proof devices and/or the original manufacturer.
One of the most important criteria is that the workshop employs individuals who have participated in relevant explosion protection training, thereby possessing the necessary documented competencies. These professionals must work with equipment that also meets the requirements of explosion safety technology.
Furthermore, according to MSZ EN IEC 60079-19:2020, the workshop must operate based on a documented quality management system, which should include specific instructions for conducting pre-repair and post-repair inspections in accordance with the specific protective mode. These inspections should always be conducted under the supervision of the aforementioned responsible person who has the required documented competencies.
What is the activity of a repair workshop?
Repair: Restoration of a faulty or non-functioning device or machine, or restoring its operational capability to the original condition in accordance with the relevant standards. (The relevant standard refers to the standards considered during the design and construction of the device.)
Maintenance: Planned routine operations aimed at maintaining the operational condition of the installed (operational) manufactured product.
Restoration: The mode of repair that involves adding and removing materials for the restoration of permanently damaged components (e.g., welding, metal plating).
We will perform the necessary audit, our certification is a guarantee of safe operation. Do you need our help? Feel free to contact us!
Need help?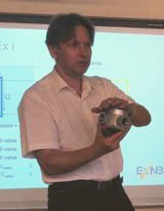 Dr. Gábor
Kun
Head of Certification
+36 20 354 2863
kun@exnb.eu